Dying to get out there and enjoy a meal at a restaurant, but not ready to dine inside? Well, I've created this list of restaurants with outdoor dining for you! Click on the image here to download my recommendations.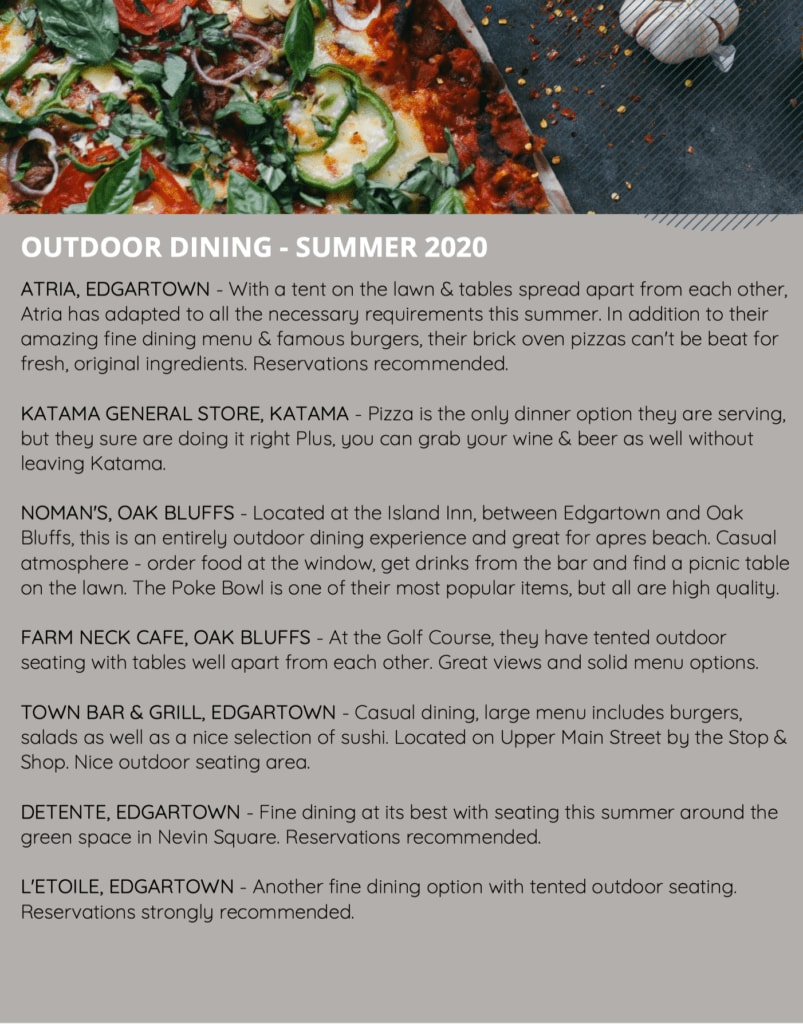 ATRIA, EDGARTOWN – With a tent on the lawn and tables spread apart from each other, Atria has adapted to all the necessary requirements this summer. In addition to their amazing fine dining menu and famous burgers, their brick oven pizzas can't be beaten for fresh, original ingredients. Reservations recommended.
KATAMA GENERAL STORE, KATAMA – Pizza is the only dinner option they are serving, but they sure are doing it right Plus, you can grab your wine and beer as well without leaving Katama.
NOMAN'S, OAK BLUFFS – Located at the Island Inn, between Edgartown and Oak Bluffs, this is an entirely outdoor dining experience and great for apres beach. Casual atmosphere – order food at the window, get drinks from the bar and find a picnic table on the lawn. The Poke Bowl is one of their most popular items, but all are high quality.
FARM NECK CAFE, OAK BLUFFS – At the Golf Course, they have tented outdoor seating with tables well apart from each other. Great views and solid menu options.
TOWN BAR & GRILL, EDGARTOWN – Casual dining, the large menu includes burgers, salads as well as a nice selection of sushi. Located on Upper Main Street by the Stop & Shop. Nice outdoor seating area.
DETENTE, EDGARTOWN – Fine dining at its best with seating this summer around the green space in Nevin Square. Reservations recommended.
L'ETOILE, EDGARTOWN – Another fine dining option with tented outdoor seating. Reservations are strongly recommended.