Do you eat Oysters? Do you ever think about where they come from? Most restaurants do include where the oysters are from, but most people don't pay much attention to that. Well, now that I've been on a tour of an Oyster Farm, I think I'll be paying a lot more attention!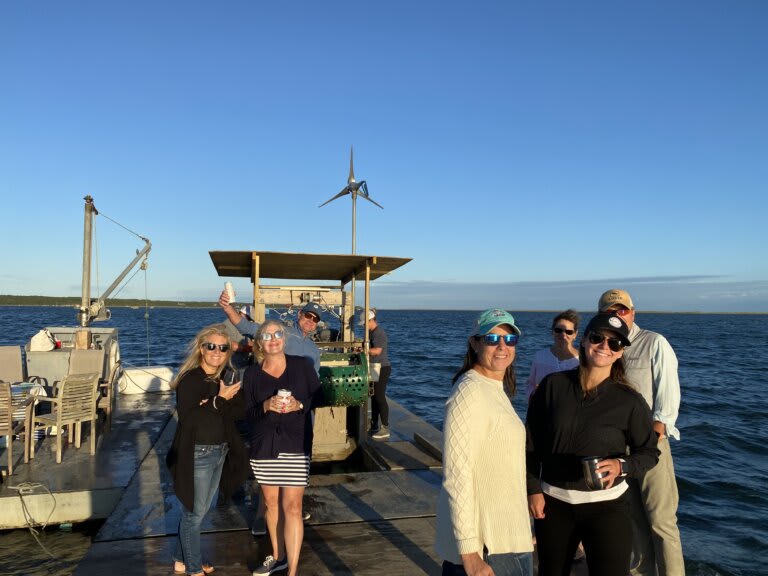 The Farm on Katama Bay
My husband and I were recently invited on a tour of a local oyster farm in Katama Bay, here on Martha's Vineyard. We had the chance to sip wine, sample oysters and hear about the whole process of raising oysters from babies (the size of a grain of sand) to full grown. This is an 18 month process that requires hard labor, 7 days a week!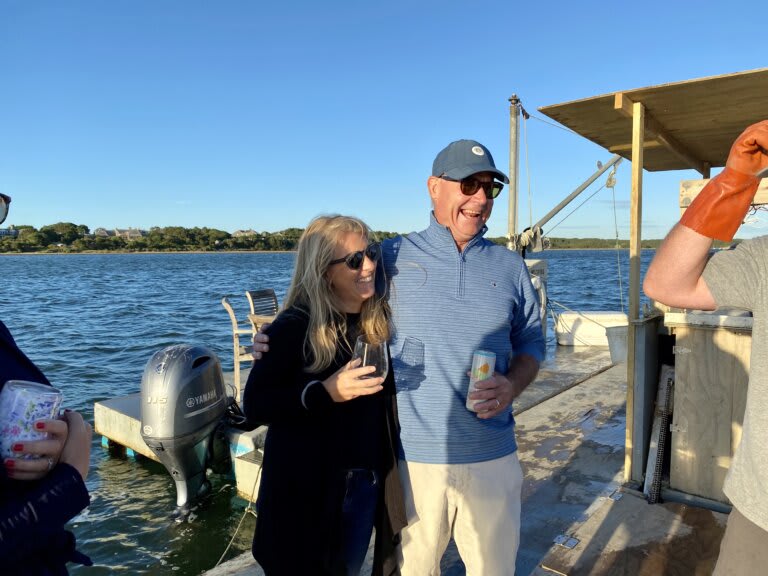 Nonnie & Dave Garvin enjoying one of Ryan's stories!


Ryan Smith, born and raised on the Island, started the business in 2006. With the help of his wife Julia and several dedicated employees, he has built it into a very successful operation that serves not just the Island but restaurants in Boston and beyond. To learn more about how Ryan started out,
visit his web site here
, but if you want to know more about the every day life of an oyster farmer, you need to go on the tour!
So, speaking of the tour, this is a relatively new offering by Signature Oyster Farm. When Covid-19 hit, like so many others in the food service industry, they were hit hard and had to get creative. Signature Oyster Farms has a wholesale license and a big part of their business is selling large quantities in Boston, which was completely on hold beginning in March of 2020. In 2019 they sold 80,000 oysters/week and in 2020, that's down to just 5,500/week.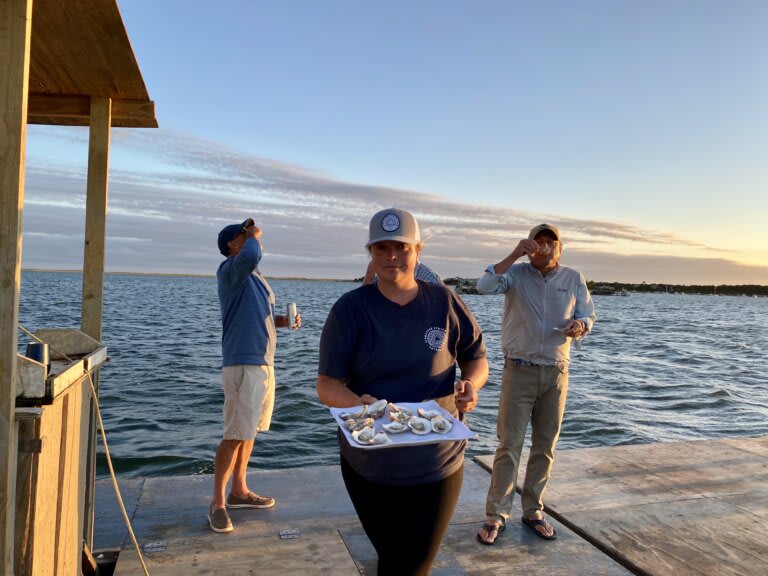 Julia Smith serving up the oysters as the guys slurp them down!


But, one thing we've learned from this Pandemic is that there have been many silver linings. The approximately 90 minute tour has been hugely successful and has been one of the popular guest activities offered by the
Winnetu Resort
, which is located just a few minutes away. The boat holds up to six people and Ryan and Julia are not only wonderful hosts, but a wealth of knowledge on all things oystering. Of course, oysters are served, but bring your own beverages and get ready to learn what it means to have a farm on the water and what happens over the 18 months of an Oyster's life.
If you aren't able to make it for a tour and still want to try some Signature Oysters, visit these restaurants:
Atria
and
19 Raw
in Edgartown or
Coop de Ville
on the harbor in Oak Bluffs. And of course, the only restaurant in Katama,
The Dunes at the Winnetu Resort
serves them as well.
We had a fantastic evening on the water with our friends and learned a ton about the oyster business. It was truly one of this summer's highlights! For more info. or to sign up for a tour you can
schedule a tour here
or call (774) 563-0950.