Martha's Vineyard is chock-full of beaches that provide every opportunity for the perfect sun-soaked outing. Still, when you're in search of some waterfront R&R, it's important to know which Martha's Vineyard beaches are open to the public and what activities are permitted. For example, some beaches are better for swimming than surfing, while others are best reserved for beachcombing and taking in picturesque sunset views. Read on to learn more about the best beaches on Martha's Vineyard.
1. Moshup Beach (Aquinnah Beach)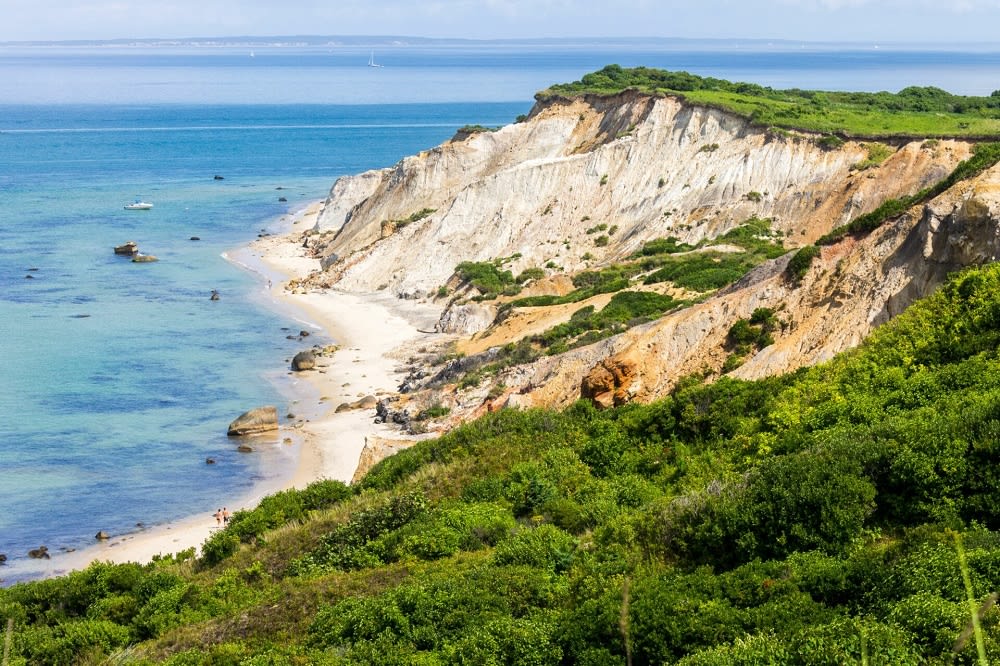 Moshup Beach
, also known as Aquinnah Beach, is most known by locals as "the cliffs beach" due to the natural bluffs that rise dramatically from the sloping sand. Once located beneath the ocean, the cliffs are considered a national landmark and are owned and protected by the
Wampanoag
, a tribe of Native People who have continuously inhabited Martha's Vineyard for more than 10,000 years.
Moshup Beach is open to the public, unlike private beaches on the island that are open only to owners of Martha's Vineyard homes or those staying for vacation. There are restrooms located near the parking lot, about a 10-minute walk from the beach itself. Moshup Beach is about one-half-mile long, but if you continue up the shoreline, you're still in the Aquinnah Headlands Preserve. This beach is perfect for boogie boarding, bodyboarding, bird watching, and angling. Be cautious during your trip to this area, as climbing up the cliffs, mud bathing, and removing clay is illegal and will cause the erosion of these protected cliffs.
2. Lobsterville Beach
Lobsterville Beach
is a calm, quiet beach on Martha's Vineyard. This beach is a popular spot for owners of
Martha's Vineyard property
as well as visitors to the area. You'll want to arrive at this beach early in the day, as parking spots tend to fill up quickly. Because of its calm, quiet nature, it's a popular spot for families with young children as well as people who enjoy fishing. Keep your eye out while you're enjoying a long walk on the beach; you may spot some sea glass.
3. Oak Bluffs Town Beach
Oak Bluffs Town Beach
is located in an urban area about one-half mile from the center of Oak Bluffs. It offers a spacious coastline with turquoise water and golden sand. The coast is free and open to the public and tends to get crowded during the high season. Easily accessible and close to the road, Oak Bluffs Town Beach is popular with owners of Martha's Vineyard homes and honeymooners. During the season, the beach line is supervised by a lifeguard.
4. Joseph Sylvia State Beach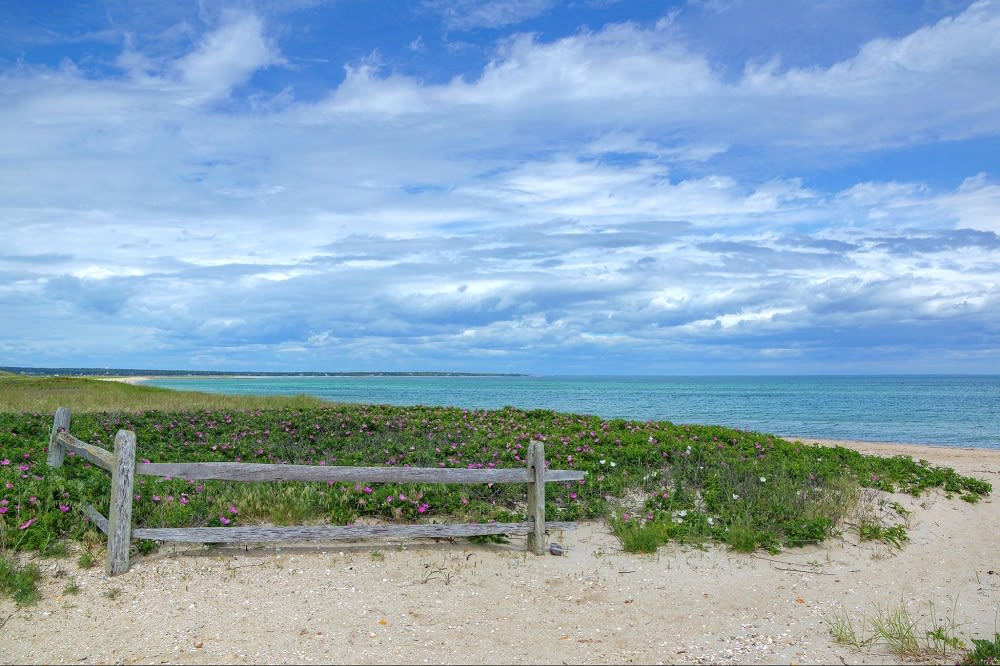 With a gradual slope into deep water and typically small waves,
Joseph Sylvia State Beach
is a two-mile beach popular with owners of Martha's Vineyard homes who have young children. You'll want to get to this beach early in the day, as parking spots during the high season are often filled up by 10 a.m. This is a great beach for bird watching, as it supports a diverse array of nesting birds including the piping plover, least tern, and American oystercatcher.
Joseph Sylvia State Beach is also a popular spot for fishing. Bait fishing from the big bridge is typically the most productive, but night fishing along the Sengekontacket Pond shoreline is also popular. Striped bass is around from May to November, while albacore is active from August until October. In July and August, you'll find peak numbers of bonito.
5. Katama Beach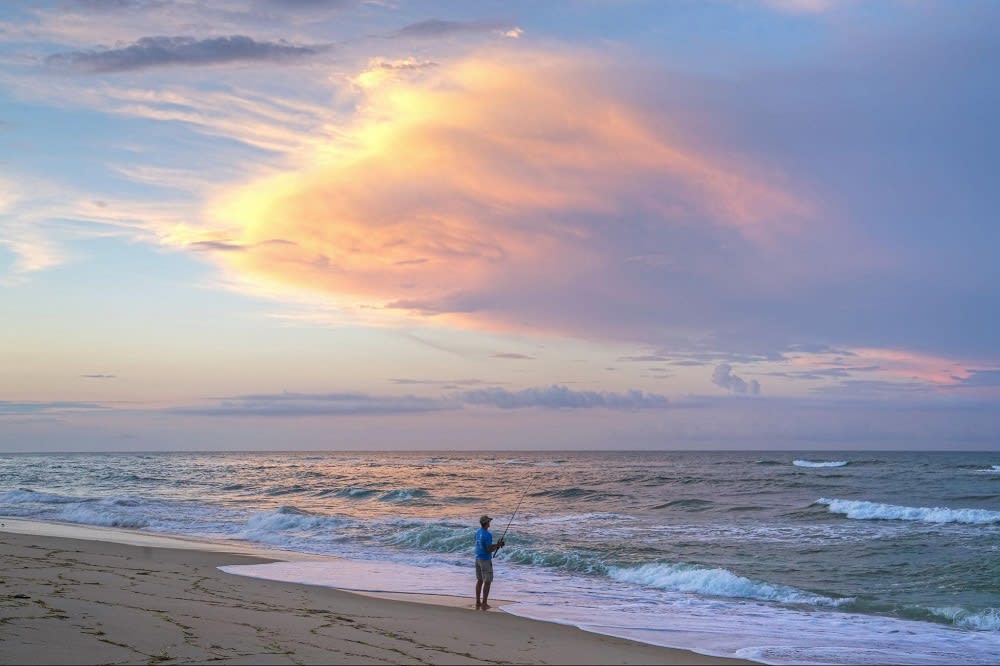 Located about four miles south of Edgartown,
Katama Beach
is considered one of the best public beaches on Martha's Vineyard. Relatively rough surf makes this a popular spot for visitors and owners of
Martha's Vineyard property
who love surfing. There are lifeguards around the beach to help visitors to the beach determine if the waters are safe to enter. If the waters are too rough, there's a second part of the beach that offers a protected salt pond.
With white sand and turquoise waters, this beach offers gorgeous views. Katama Beach is clean and well-groomed, and because it's around three miles long, it's often easy to find a good spot. There is ample parking as well as restrooms at the beach.

Unlike other beaches around Martha's Vineyard, Katama Beach is relatively secluded and located away from food vendors and restaurants. There is a general store on the way to the beach if you'd like to pick up your own food and drinks to enjoy during your day at the beach.
6. East Beach (Leland Beach)
Located on the Chappaquiddick Island of Martha's Vineyard,
East Beach
is the perfect spot for surfing on Martha's Vineyard. Also known as Leland Beach, the property encompasses more than 100 acres, including a one-half-mile stretch of beachfront. This is a popular spot for owners of Martha's Vineyard property who love fishing, as bluefish and striped bass are common in the area. You will need an over-sand vehicle permit if you want to drive your vehicle on the beach, and the Trustees of Reservations require an entrance fee.
These are just six of the many beaches that are located on Martha's Vineyard. There are so many beaches to visit that you may consider buying a home in the area for the chance to explore them all!
Find the Perfect Martha's Vineyard Property for You
When you're ready to start looking for your dream home on Martha's Vineyard, partner with a real estate group that will provide you with a high level of personal service paired with the latest technology.
The O'Hanlon Group
has more than 30 years of combined experience on Martha's Vineyard real estate. If you want to buy a home to live in part-time, they also offer property management services while you're living elsewhere. Reach out to The O'Hanlon Group directly when you are ready to start your home search.