Whenever
Martha's Vineyard
gets mentioned, the first thing that comes to mind is tasty seafood and remarkable sunsets. The iconic island is located south of Cape Cod and has an endless summer feel. Cool breezy days on Martha's Vineyard never seem to end, and there is no better place to savor the New England experience than this island.
Martha's Vineyard is home to around 17,000 year-round residents. It's a renowned summer getaway many went on holiday to and decided to extend that unique summer feeling by settling there. Here are some reasons locals love Martha's Vineyard and why you'll also want to move here.
Amazing Serenity
Photo courtesy of Enchanted Gardens
Thousands of people choose the island as their vacation spot in summer due to its unmatched serenity. If you ask a full-time resident, they'll tell you that's among the reasons they chose to stay. Besides the enchanting beauty, you'll find pink roses, white picket fences, and blue hydrangeas everywhere.
On lazy spring or summer afternoons, you'll find locals whiling away at the charming garden of
Mytoi
. The Japanese-inspired gem on Chappaquiddick features winding paths, beautiful gardens, and other hidden nooks. Other scenic locations on the island that delight the eye include the
Cape Poge Wildlife Refuge
and the
Wasque
nature reserve.
Pristine Beaches
No single attraction on Martha's Vineyard draws visitors in their thousands like the island's pristine beaches. The beaches are also a leading reason locals love the island. Although Martha's Vineyard features 19 beaches, it still has an unspoiled charm. Some of the beaches are reserved for locals, something that makes them fall in love with living on the island all the more.

From the shallow, calm waters of the eastern and southeastern sides to the active surf on the south, the beaches on the island offer something for everyone. Most residents love living on the island due to its bucolic bliss. Here, they found solace in nature and got drawn by the simplified, Zen-like existence. As many locals say, moving to Martha's Vineyard allowed them to live the dream and learn to love reality.
Lighthouses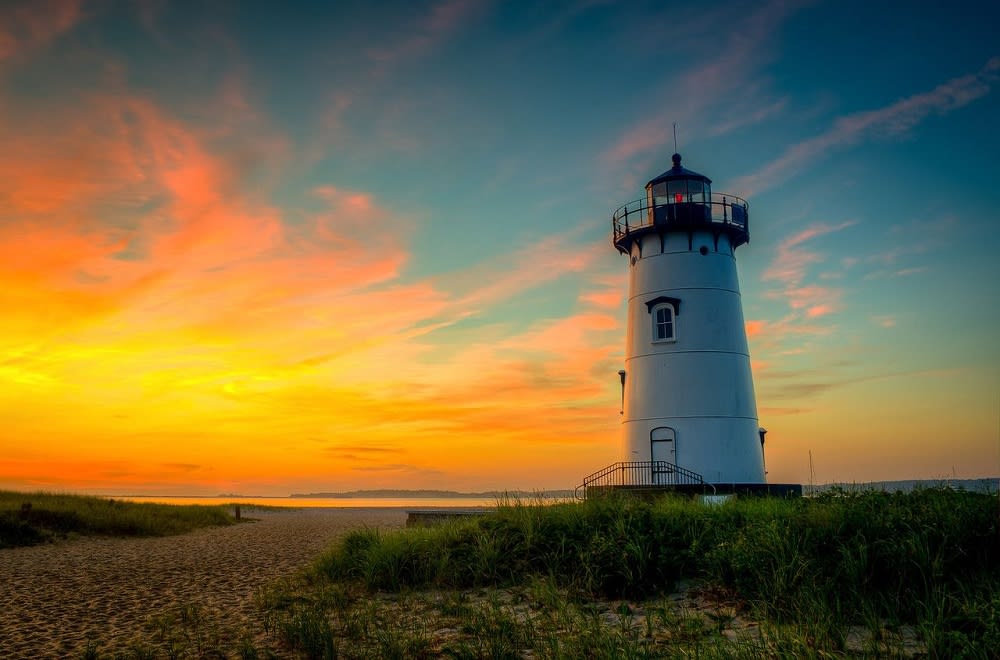 Photo courtesy of Pinterest
Martha's Vineyard often gets referred to as the lighthouse paradise, and it's easy to see why. The lighthouse was built in 1856, and four more have since come up. A notable feature about the
five lighthouses
that dot the island is that they all have a unique charm. Many residents consider these lighthouses a great addition to the island's famed appeal.
The island is renowned for its dangerous tides, rough underwater reefs, and rocky shores, making the lighthouses a must-have. However, these lighthouses also serve a historical purpose. Locals love visiting them to take picture-perfect photographs and learn more about the island's rich maritime history.
If you've always imagined yourself living in a place with a lonely lighthouse surrounded by furious waves breaching the reef, there's no better place to be than Martha's Vineyard. To outsiders, the choice to live on an island nearly seven miles off Cape Cod may seem unconventional. However, for many full-time residents, it's the best decision they ever made.
Profitable Housing Market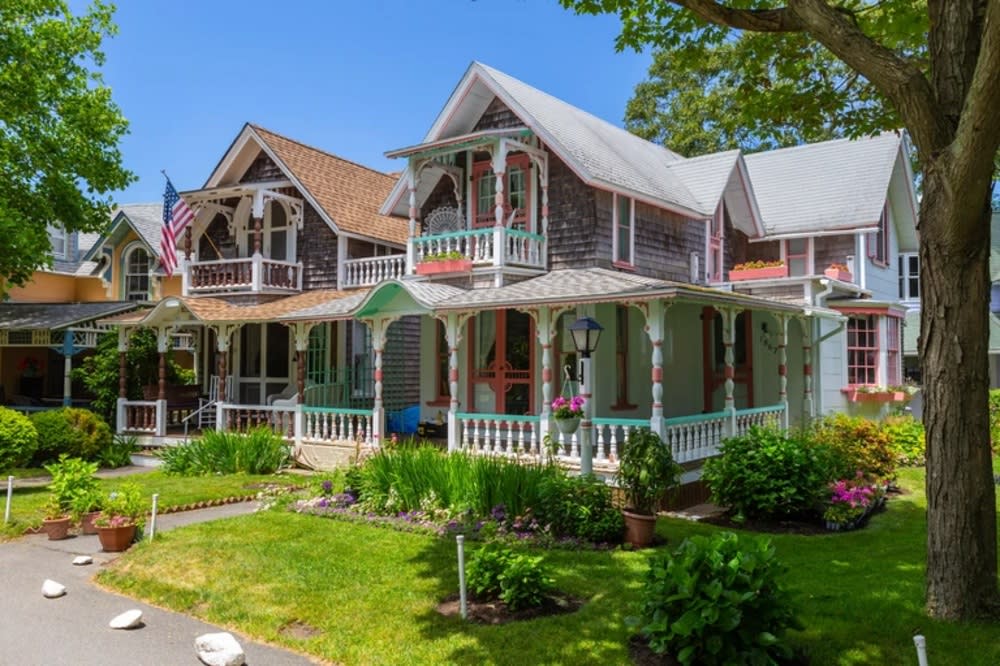 Photo courtesy of Culture Trip
Looking at Martha's Vineyard real estate market, you'll realize it's one of the best places to buy a home. Although the island only has 17,000 full-time residents, more than 100,000 people
vacation there yearly
. Summer is particularly profitable for locals who own Martha's Vineyard condos and single-family homes for rent.
Finding a place to call home can be a significant obstacle for those wishing to move to the island. According to a recent
estimate
, 38% of homes on Martha's Vineyard are available for full-time residency. Most people who have invested in the Martha's Vineyard real estate market prefer renting their homes to vacationers because it's more profitable than renting to full-time residents.
Nonetheless, that shouldn't dissuade you from moving to the island because the realtors at
The O'Hanlon Group
have your back. When shopping for a family home in Oak Bluffs or elsewhere on Martha's Vineyard, they can help you find a property that suits you best.
You Never Know Who You'll Bump Into
Martha's Vineyard is worlds apart from the Hamptons, another popular summer getaway on the East Coast. The island is a departure from the flashing cameras and velvet ropes typical of the Hamptons, which is a plus for locals. Apart from the splashy events, locals generally have a laid-back lifestyle that celebrities and other summer vacationers cherish.
Despite this, locals love that living on the island comes with the excitement of not knowing who they'll run into when going about their daily business in town. The beauty of having famous visitors on the island is that they also go about their activities like everyone else without the glitz and glamor of their everyday lives. For locals, this means minimal disruptions even when the celebrities are in town.
Seafood and Breathtaking Sunsets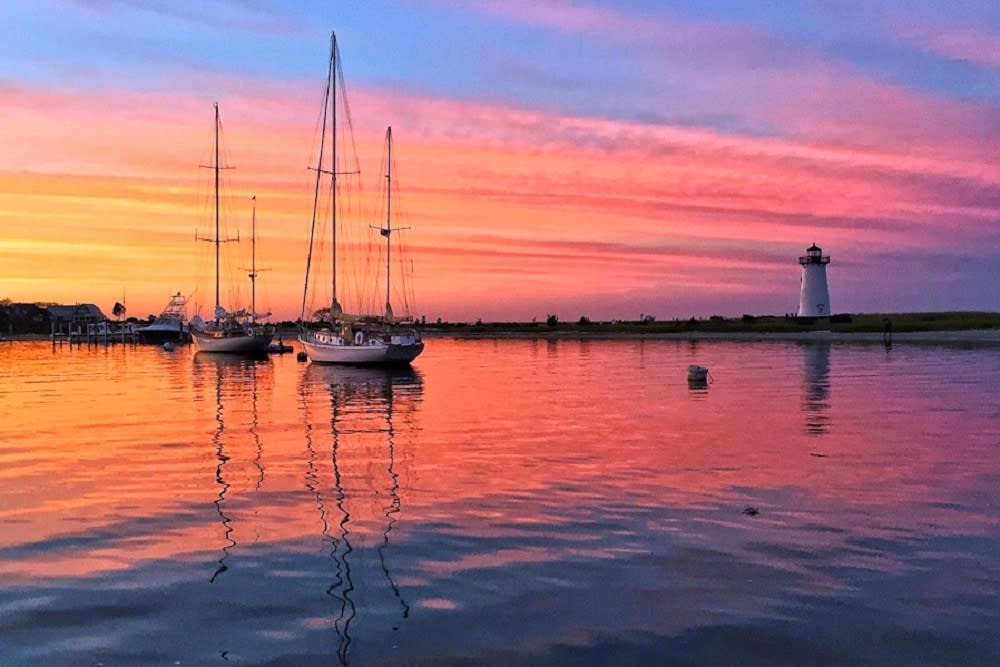 Photo courtesy of Crispin Haskins
Seafood is central to everyday life on Martha's Vineyard. Generations of local fishermen have peddled their wares on the island's docks. This means a constant supply of tasty fish, prawns, lobsters, and other fresh, local catches for residents. Regardless of where you live on the island, a fish market or a restaurant teeming with freshly fried clams, takeout steamers, or lobsters is never too far away.
Charming seafood restaurants dot the island's docks so you can enjoy different delicacies on the beach. Better still, you can do that while taking in some of the most breathtaking sunsets you'll find anywhere. For many locals, this is one of the main reasons they moved to Martha's Vineyard and stuck around.
On a typical summer evening, you'll find many locals at
Menemsha public beach
and other spots with their chairs, blankets, and wine, catching beautiful sunsets. Those who can't find a place at the beach can still get a glimpse of Martha's Vineyard's famed sunsets from the comfort of their homes.
Generations-Old Angling Culture
Martha's Vineyard is a major angling hub on the East Coast. Most locals can name someone they know who makes a living out of angling. The island's
Striped Bass and Bluefish Derby
attract anglers from all over the world, but many locals are also engaged in fishing along the island's 100 miles of shoreline.
Rural Lifestyle
You've probably read somewhere that all restaurants and shops on Martha's Vineyard close during the off-season. For an outsider, the closures may leave you wondering whether there's anything to do when the vacationers leave town. However, that's the least of the worries for many full-time residents because there are many things to do during the off-season.
The weather may get somewhat brisk, but Martha's Vineyard's charm remains even during the off-season. There are plenty of museums, which offer residents an excellent way to spend their days and learn about its rich culture. Walking on the beach is also rejuvenating, even in winter. Hitting the farms and trails that dot the island is another great way to spend time and savor its beauty and untouched nature.
For an island with a coveted real estate market, Martha's Vineyard still retains an incredible cache of agricultural land. There are over thirty produce farms, cheese makers, and other agricultural businesses. Thanks to organizations such as the
Martha's Vineyard Land Bank
, locals have lots of homegrown treasures to sample all year round.
Plenty of Outdoor Space
Besides the beautiful beaches and the breathtaking charm of the cottages that dot Martha's Vineyard, many people move to the island because there's plenty of space. That's particularly true for those with kids who are ready to explore something more considerable than quaint apartments and townhouses.
When you check out the Martha's Vineyard
luxury homes for sale
, you'll realize most come with spacious backyards and outdoor spaces for fun and entertainment. Indeed, this is rare in the cities. Martha's Vineyard also has plenty of good schools, making it an excellent place for families. Being away from the hustle and bustle of city life makes the island appealing to many locals.
Summing Up
For many locals, living on Martha's Vineyard is a spectacular experience. In summer, the island springs to life, while locals enjoy a quiet and relaxing atmosphere in the winter. Fewer places in America offer Martha's Vineyard's beauty, charm, and laid-back lifestyle, which is why locals and vacationers love the island.
If you've been looking to move to Martha's Vineyard and don't know where to start your home search, look no further than the
realtors at The O'Hanlon Group
, who have a range of luxury condos and houses for sale on Martha's Vineyard. Get in touch at (508) 212-8278 or
ohanlongroup@gmail.com
, or visit the office at 877 Main St Osterville, MA 02655, and discuss your needs with one of their experienced realtors.
*Header photo courtesy of American Adventure