The beaches are crowded now and social distancing may become difficult. So, I've put together my recommendations for some great things to do that don't include going to the beach (except for Great Rock Bight Preserve). Click on the image here to download the activity list.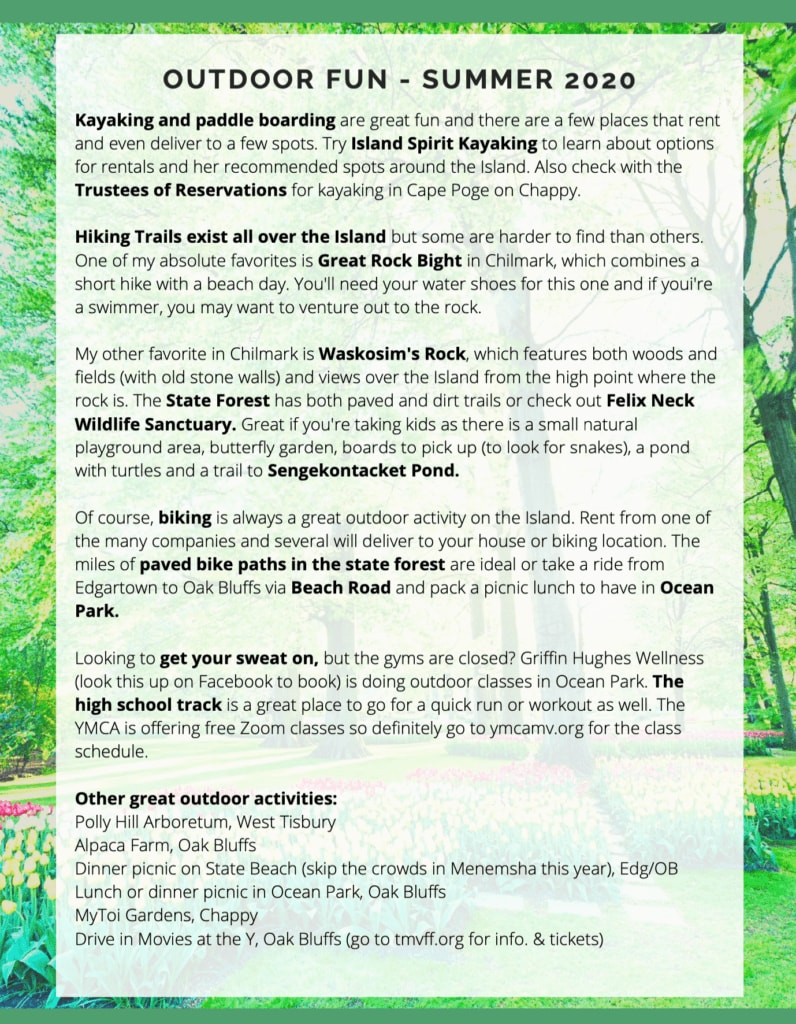 Kayaking and paddleboarding are great fun and there are a few places that rent and even deliver to a few spots. Try Island Spirit Kayaking to learn about options for rentals and her recommended spots around the Island. Also, check with the Trustees of Reservations for kayaking in Cape Poge on Chappy.
Hiking Trails exist all over the Island but some are harder to find than others! One of my absolute favorites is Great Rock Bite in Chilmark, which combines a short hike with a beach day. You'll need your water shoes for this one and if you're a swimmer, you may want to venture out to the rock.
My other favorite in Chilmark is Waskosim's Rock, which features both woods and fields (with old stone walls) and views over the Island from the high point where the rock is. The State Forest has both paved and dirt trails or checks out Felix Neck Wildlife Sanctuary. Great if you're taking kids as there is a small natural playground area, butterfly garden, boards to pick up (to look for snakes), a pond with turtles, and a trail to Sengekontacket Pond.
Of course, biking is always a great outdoor activity on the Island. Rent from one of the many companies and several will deliver to your house or biking location. The miles of paved bike paths in the state forest are ideal or take a ride from Edgartown to Oak Bluffs via Beach Road and pack a picnic lunch to have in Ocean Park.
Looking to get your sweat on, but the gyms are closed? Griffin Hughes Wellness (look this up on Facebook to book) is doing outdoor classes in Ocean Park. The high school track is a great place to go for a quick run or workout as well. The YMCA is offering free Zoom classes so definitely go to ymcamv.org for the class schedule.
Other great outdoor activities:
Polly Hill Arboretum, West Tisbury

Alpaca Farm, Oak Bluffs

Dinner picnic on State Beach (skip the crowds in Menemsha this year), Edg/OB

Lunch or dinner picnic in Ocean Park, Oak Bluffs

MyToi Gardens, Chappy

Drive-in Movies at the Y, Oak Bluffs (go to tmvff.org for info. & tickets)