Is the Martha's Vineyard Real Estate Market starting to cool off?
Are we entering more normal times?
You may have seen the news recently and are now wondering if the real estate market is changing and starting to get back to normal.
I'm going to answer this question and provide you with information both on a national level and locally on Martha's Vineyard.
According to Odeta Kushi, Deputy Chief Economist at First American, "We are seeing some signs of softening in the housing market, but context is important here…we're still very much in a sellers' market, but we are seeing some early signs of softening"
Probably the biggest news coming out is the drop in pending home sales. Maybe you've heard about this over the last month or so. Let's look at pending home sales nationally going all the way back to 2012.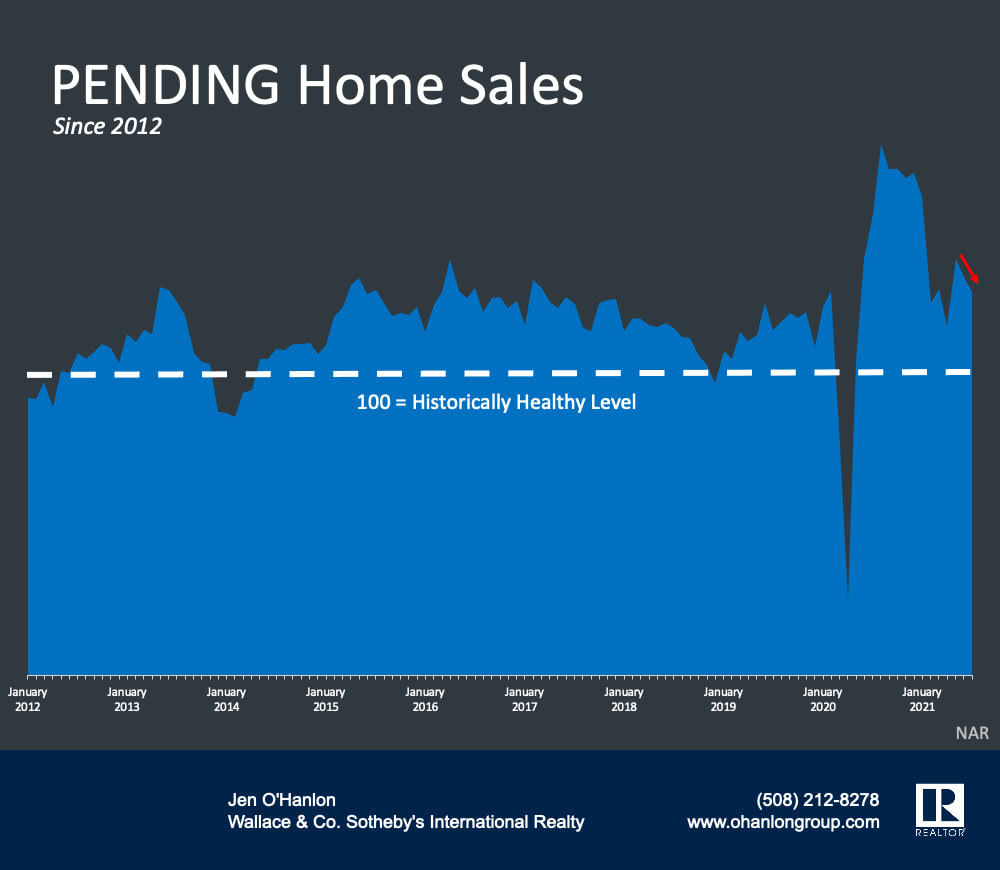 You see we're clipping along at a nice pace and then we dip down during the lockdown and come back up with a bunch of activity and home sales in the summer of last year.
The recent drop is shown with the little red bar at the end. Notice that we are still well ahead of where we have been historically.
For context, if we were to draw a line, you'll see what a healthy market looks like, this guideline right here gives you perspective of a healthy market.
On the Vineyard, we currently have just 21 homes under contract.
Last September, this number was 67. However, the average number of pending sales in September, from 2015-2019 was 36.
So, while we are definitely down from this time last year, we are not completely out of line with our historic numbers. Additionally, the lack of available homes for sale is a significant factor in the drop in homes going under contract recently.
Ok, so let's look at 5 reasons that show the current market Is anything but normal.
First, there are the mortgage rates. If you think about it, that's what has fueled the demand over the past year.
Here are rates by decade, '70s, '80s, '90s, 2000's, 2010's.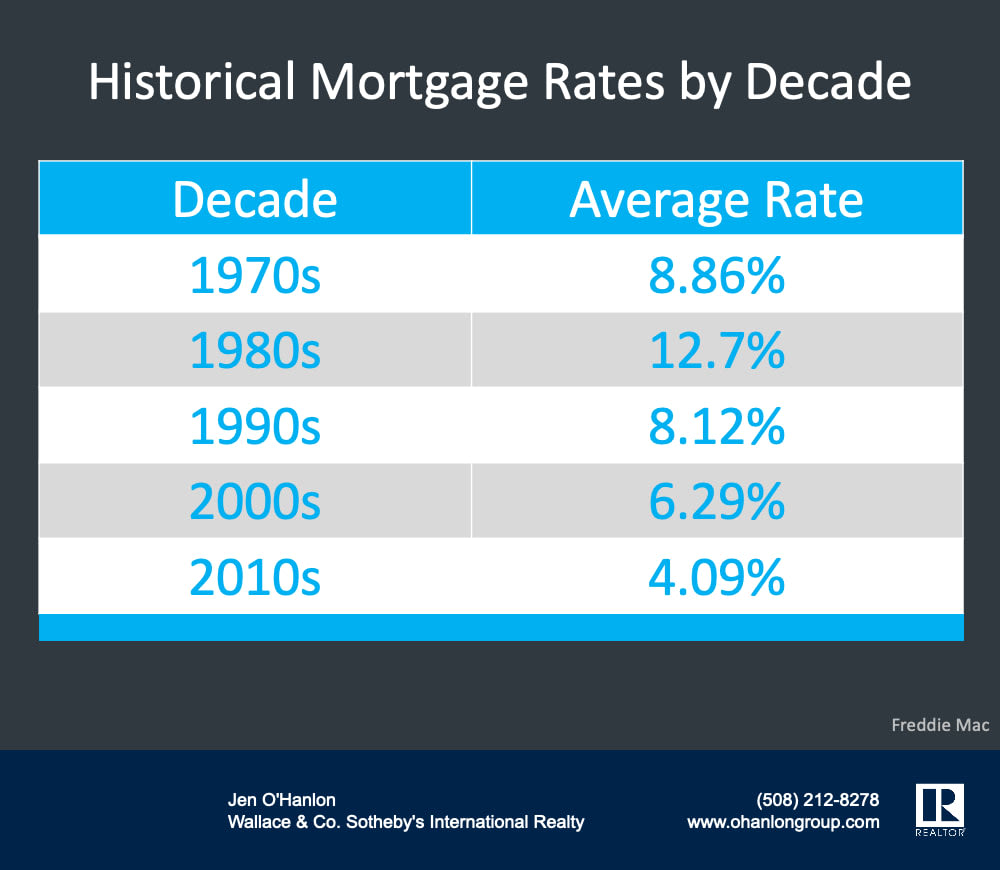 These numbers are so much higher than what we have become accustomed to. And look at today. We sit at 2.87% on the average 30 year fixed.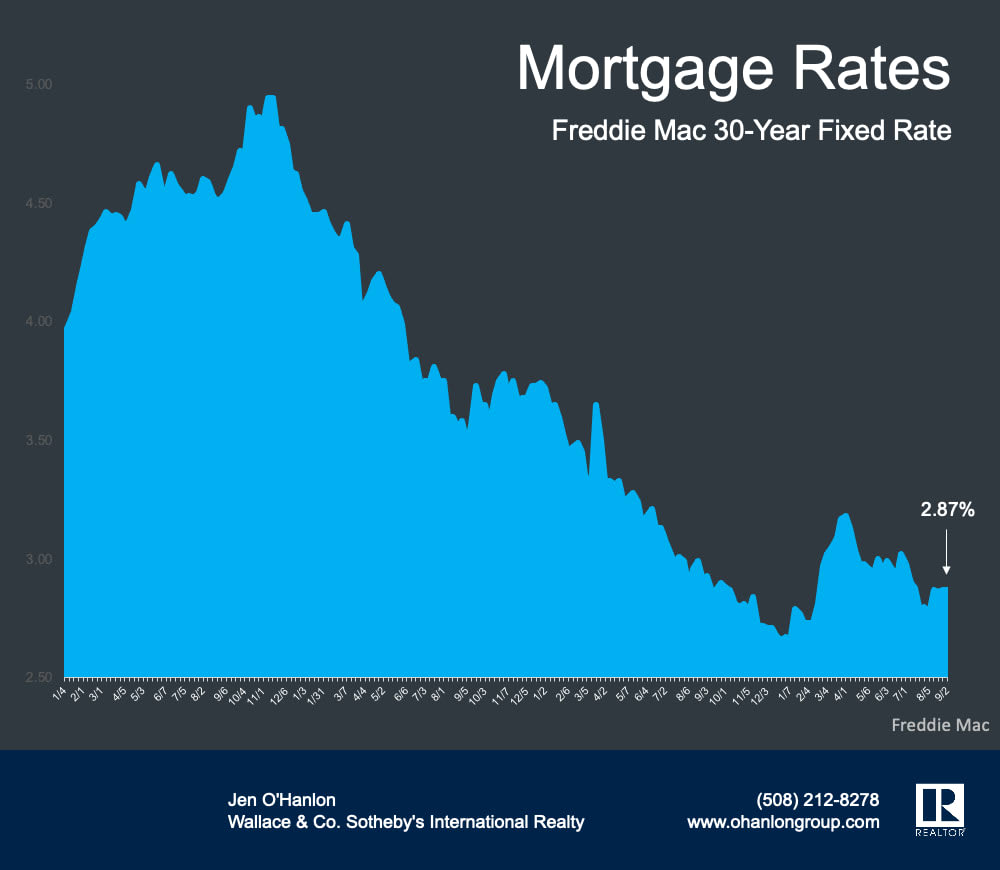 So, again, context. We certainly wouldn't say that's a normal market by historical standards.
Next thing is home price appreciation.
If you look at home price appreciation by the year, most recently right here, according to this Black Knight study, there's 14% home price appreciation.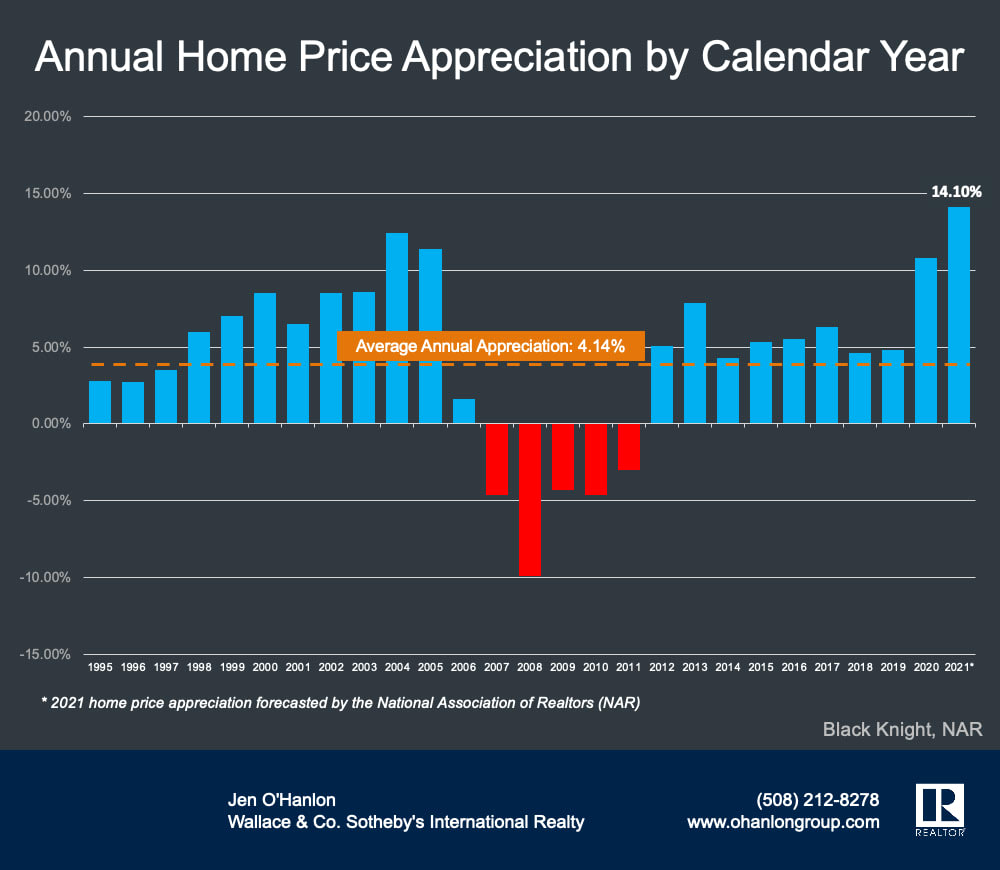 And you see the red bars there in the middle, those are the years where we saw depreciation in the market.
And Martha's Vineyard? Way higher than the national average. In 2020, we were up to as much as 30% by some calculations.
But what we should focus on right now is the national average appreciation. You see it, the orange bar there in the middle. 4.1%. That's higher than normal and is expected to continue.
Ok, now on to inventory. A lack of supply has been the biggest issue in housing, no doubt, over the last year. Let's look at where we're at in that.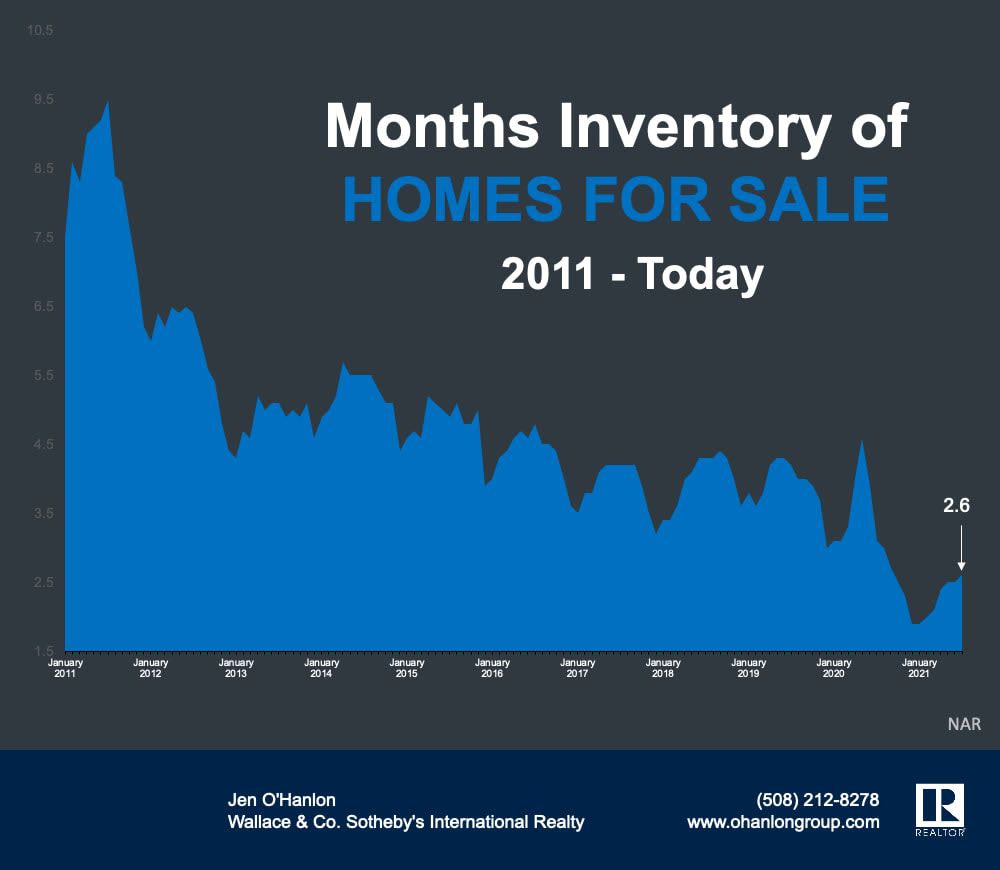 NAR says this, "Months' supply refers to the number of months it would take for the current inventory of homes on the market to sell given the current sales pace. Historically, six months of supply is associated with moderate price appreciation, and a lower level of months supply tends to push up prices more rapidly."
On the Vineyard, we currently only have 2 months worth of inventory. The national average is 2.6. This looks all the way back to 2011, ten years. And you can just see this ride down to where we sit in the lack of available inventory across the country.
Now for the 4th reason we're not seeing things getting back to normal yet: Days it takes to sell a home or average days on market.
As of July, It's taking 17 days to sell a home. That's a quick, quick time frame. And likely that number is shortened. That's by the time everything is finalized with the contract.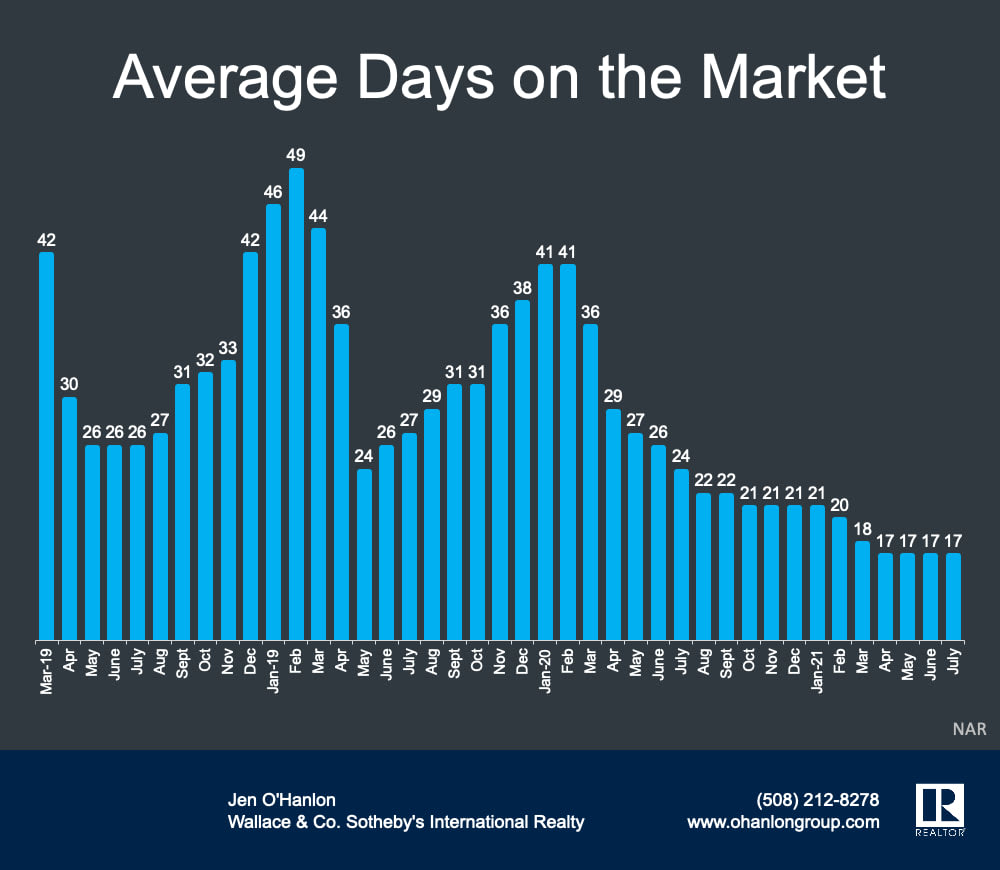 Finally, the Average number of offers for each listing.
This is the number of offers that are made on average, on a listing, all across the country. Typically, there may be a couple of offers on a listing. We're at four and a half right now.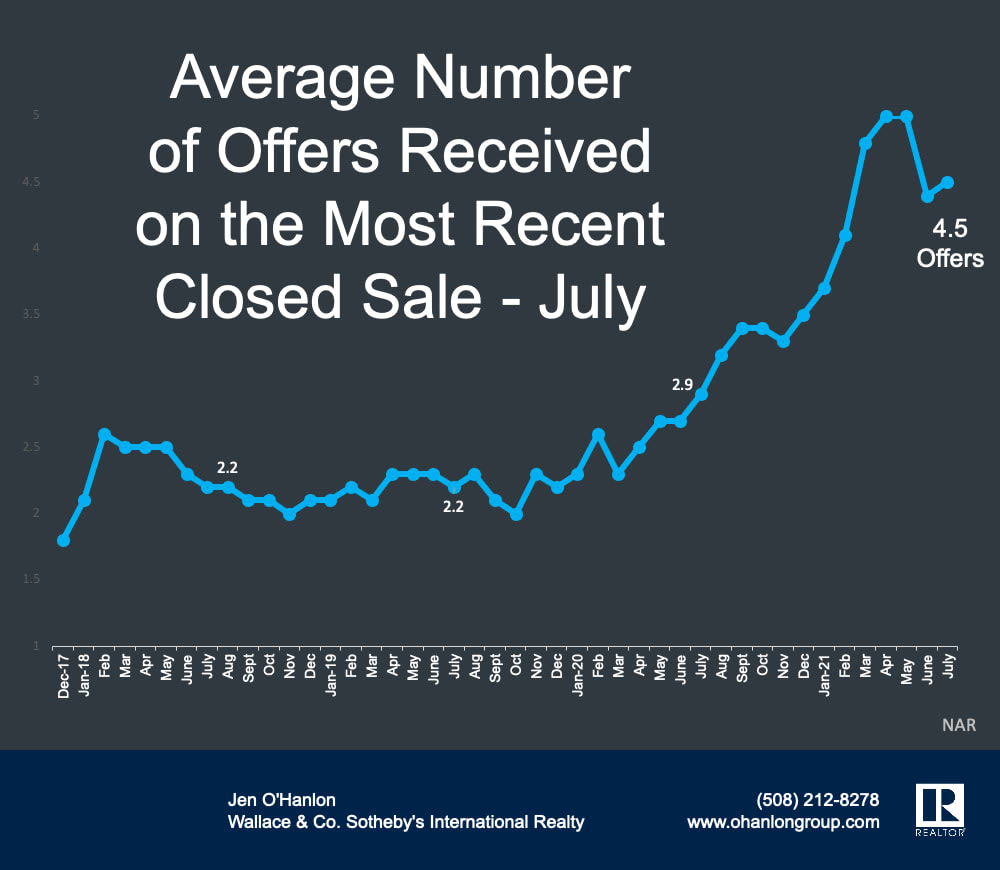 So, as you can see by all of this data, the real estate market is far from being back to normal and although there may be some cooling off, inventory and interest rates are still at levels that will continue to create more demand than supply.
If you'd like any help navigating this ever changing Martha's Vineyard Real Estate market, just let me know.